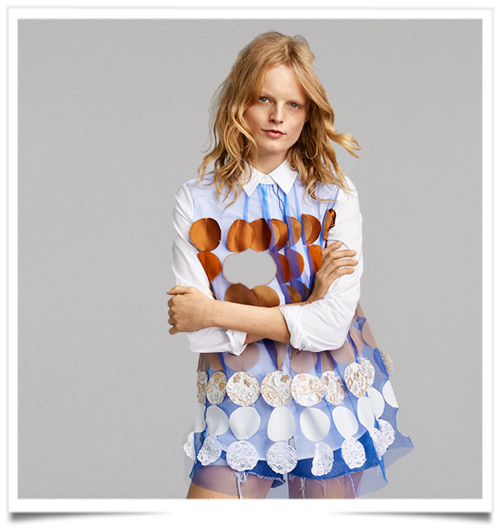 Viktor & Rolf are taking their conscious couture philosophy to a wider audience with a collection for Zalando that is made from left over clothing.
It also marks the debut of Zalando's new recycle project, which is aimed at raising awareness around sustainability in fashion and consumption.
"We have been working on the idea of recycling for a couple of seasons in our couture shows in various ways, and we feel quite strongly about it. We said to ourselves it would be so great to take this to a bigger audience. It was great fun to think about ways to translate a couture idea into a ready-to-wear idea, and to have it industrially produced."
In an interview, Viktor Horsting said the duo's couture collection inspired the Zalando one, with prices ranging from 50 euros for a T-shirt to 250 euros for the long dress.
The Dutch designers approached Zalando with the idea, and the retailer later offered them piles of unsold stock from its own brand collections. Horsting and Rolf Snoeren did the design, sampling and production from their atelier in Amsterdam, and produced the collection in Italy.
The Zalando launch also marks the beginning of what will be a busy 25th anniversary year for Viktor & Rolf. The designers are also preparing a retrospective exhibition in Rotterdam that will open at the end of May, which Horsting said would be similar to the one that took place last year in Melbourne, Australia, called "Viktor & Rolf: Fashion Artists," at the National Gallery of Victoria. He said the Rotterdam show would be even bigger.