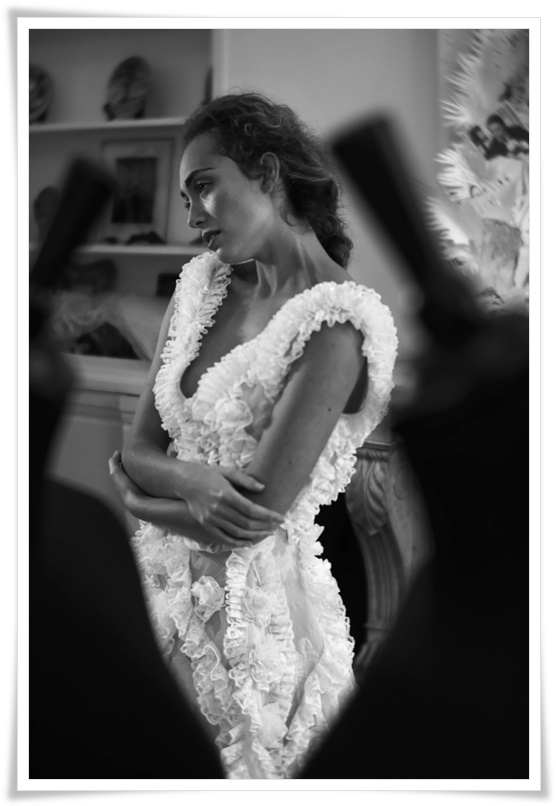 Franck Sorbier couldn't start his film without paying tribute to Robert Hossein, who was a faithful friend, who saw them humming like the wings of a hummingbird, only to end up making no noise at all, because their magic often reminds us of the calm chaos of these people fighting to keep their balance, like tightrope walkers all in feathers of lightness in the deafening silence of the Paris Fashion Week that promotes young men of 23 years old with just presumed talent.
Their show sounds like caresses and glances, but  all night long I negotiate with myself and with my conscience to know to whom I will wear my couture calame on the white sheet of paper. So here it is, back to the days of the fashion carnival, this magnificent place where each one wants to run faster than the other in order to attract attention. Golden threads to warp my day; a scrap of guipure shining with colors, to the dream where I can remain a child and still be free a little, childhood found in abundance by the Master's dresses.
I have this bitter bruise in my heart of an archer without a target, waiting for my arrow to fuse in the sound of the dew that produces like Franck's drops of beauty. She is Diana the huntress, and Antigone of Sophocles at the same time. "To understand… You have only this word in your mouth, all of you, since I was very small. You had to understand that you can't touch the water, the beautiful, cold, leaking water because it wets the slabs, and the earth because it stains the dresses. We had to understand that we shouldn't eat everything at once, give everything we have in our pockets to the beggars we meet. To run, to run… in the wind until we fall on the ground and to drink when we are hot and to bathe when it is too early or too late, but not just when we want it! Understand." Always understand, why do it? Franck Sorbier doesn't want to understand your conventions, he only wants to create, and he does it each time better than all the others.
Anonymode