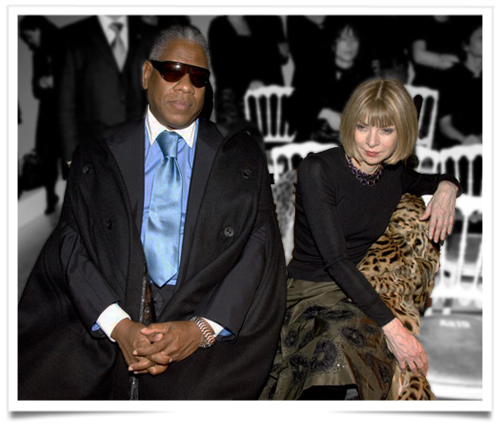 André Leon Talley has detailed the ageism and racism that he faced during his decades-long career in fashion. André Leon Talley's new book won't be out until September, but many are already feasting on the fallout he had with his former Vogue boss Anna Wintour.
Penguin Random House has pushed back the release of "The Chiffon Trenches: A Memoir" to September. But The Daily Mail's recent recap of the book exposed how the two high-powered friends and ex-colleagues have fallen out. In an interview Friday, Talley, Vogue's former creative director, detailed his side of the back story, and emphasized how his upcoming tome centers on his career in fashion journalism, not just his years of Wintour.
Talley said that he and Wintour "had a conversation" and she asked that passages about her daughter Bee Shaffer's wedding and a few other private references be removed. "This is not a vengeful book about Vogue and Anna Wintour. There are parts in the book where I say that some of the best years of my life were at Vogue.
That said, he added, "From a humanitarian perspective, she left me with psychological scars. I was often left blowing in the wind without any explanation, which I think perhaps she should have given me."
As for what Wintour might find most hurtful, Talley said, "If I had said to her, she's vain. She's not vain. That was not my intention. My intention was to do a story about me, an African-American man, coming from very humble beginnings, who came up to New York, went to Brown University on scholarship, got a job with Andy Warhol.
Interestingly, Talley is still listed as a contributing editor on Vogue's masthead, alongside the likes of Grace Coddington, Lisa Love and Lauren Santo Domingo.
Any e-mails sent to the Condé Nast leader are answered by a third party. "I wish her well. This book is not there to say, 'This is how I feel about Anna Wintour — she's cruel and mean.' I just feel that Anna Wintour mishandled our relationship and perhaps it was a lack of communication on my part as well as hers."
As soon as they fired Diana Vreeland, they had to lock the door. They did not want to tell her that she was fired. They just told her she had to go. Then she came to work, the door was locked and they changed the office from red to beige. They're cruel. It's a cruel world. I guess it's no more cruel than any other world, but it's not a humane world. It is not a world of kindness."
While many imagine what it might be like to be on the inside at Vogue, Talley said, "It's very hypocritical. It has the veneer of being very polite, courteous, well-groomed and polished. When you are in the halls of Vogue, there is a certain standard of politeness, education, kindness, just human correctness. But that doesn't go to the core of people. People are treated and mishandled terribly at Condé Nast and it starts at the top.
Having been awarded a Dame Commander of the British Empire by Queen Elizabeth and the Legion of Honor by France's former president Nicolas Sarkozy, Wintour remains British to the core, according to Talley. "Maybe it is the British culture. She never knew how to say to me, 'André, I need you.'"
As for the adage that business is never personal, Talley said, "No, no, sorry not buying it. Business, unless you are a robot or an algorithm, if you're a human being, it's got to be personal. If you've got any sense of humanity no matter how high you go corporate it's got to be personal. Part of the magic of the Vogue culture was that it was very personal," he said.