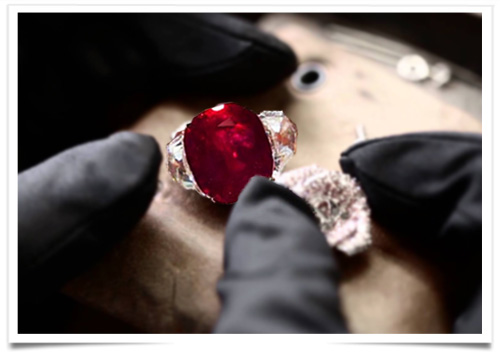 Ruby ​​set a world record at auction last Tuesday in Geneva. It was sold 30.33 million dollars by Sotheby's. The auction house Sotheby's offered the Burmese ruby ​​25.59 carats, a deemed extraordinary size for a ruby. The color "pigeon blood" of this stone, called "Ruby Sunrise" remains the most sought after of all. Mounted on a Cartier ring, this ruby ​​was estimated between 12 and 18 million dollars. This is a record price for a ruby ​​but also a record price for a Cartier jewel in an auction, Sotheby's said.
At that same auction, it was also sold a unique pink diamond of 8.72 carats to have belonged to the niece of Napoleon 1st was sold $ 15.9 million.
This extremely rare stone was estimated from 14 to 18 million dollars (12.5 to 16 million euros). The Diamond is extremely clear and of an intense color. A bidder in the room was quickly taken away for the sum (with costs) of 14.8 million Swiss francs ($ 15.9 million or EUR 14.3 million).
The last owners was the American heiress and philanthropist Huguette Clark, who died in 2007 at the age of 105. The origins of the stone remains uncertain, which makes it even more mysterious. The technical characteristics of the stone and the fact that it is so ancient suggests it may have been found in the famous Golconda mines in India, according to David Bennett, chairman of the international department of fine jewelry at Sotheby's.