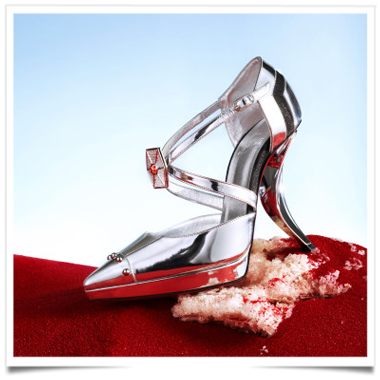 Christian Louboutin and Disney are making magic once again. Following 2012's reinterpretation of the "Cinderella" slipper and 2014's "Maleficent" shoe, Louboutin has reunited with Walt Disney Studios to create a showpiece and a set of shoe designs for the release of "Star Wars: The Last Jedi."
A fan of the sci-fi franchise since the beginning, Rey (Daisy Ridley), Vice Admiral Amilyn Holdo (Laura Dern), Captain Phasma (Gwendoline Christie) and Rose Tico (Kelly Marie Tran). The commemorative styles are to start with the showpiece on Saturday at the Los Angeles premiere of the latest episode.
The showpiece, a collaboration between Louboutin and Industrial Light and Magic, incorporates Louboutin's six-inch Ballerina Ultima heel. The display will feature a hyper-realistic holographic installation and will be guarded by a set of Praetorian Guard members on the red carpet of the premiere.