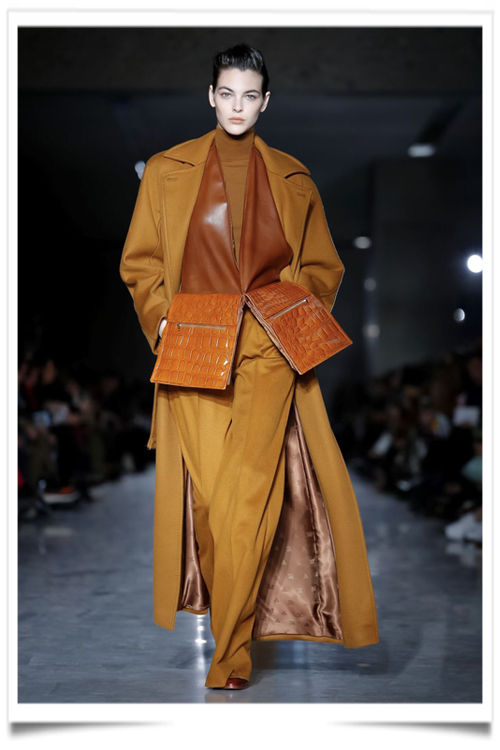 The fall collection was an exploration of some of them, including monochromatic dressing, statement coats in wider, shorter, boxier silhouettes, leggy skirts, and thigh-high Wonder Woman-worthy boots that recalled the Nineties, while managing to avoid falling into the too-retro trap.
The miniskirt looked fresh, especially in nylon with utility zipper details, and worn with a blouson top. So did the long trouser skirt under a bomber jacket. Reaching into the archives, Griffiths created prints from past designers' sketches for the house, including one from the dearly-departed Karl Lagerfeld, who worked for Max Mara for two years in the Seventies. And while the idea was certainly dress to impress, he nodded to the comfort revolution with a sweatshirt with utility pouch detail, sensible belt bags and a renewed focus on knitwear in the same spirit as the brand's snuggly coats, namely fuzzy, oversized sweaters and animal-patterned sweater dresses.
The brand's signature overcoats were given new life in power colors, conjuring the idea of coat as an outfit-maker. With an eye toward warmth without using fur, Griffiths offered a quilted version of the house's famous camel coat with camelhair stuffing, rather than feathers or down, and recreated the look of a shearling, only in alpaca bound in leather.