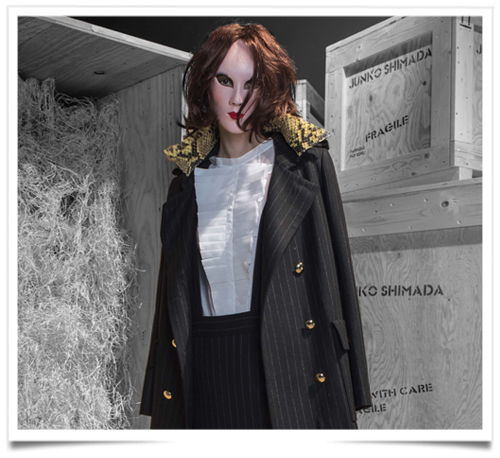 In transit at the Palais de Tokyo today, Junko Shimada literally delivers a collection picked up from her suspended garden between Paris and Tokyo.
Lover of joyful contrasts Junko Shimada makes everything rhyme, day and night, long and short, hot and cold, matte and shiny. Enjoying the delightful shifts, she brings together the cool and the chic, the city and the countryside, the simple and the rich …
Perfecto suits, impeccable overcoats, pencil skirts in woolen cloth stripes, marine sneakers exacer- bated by sinuous pythons. Pristine crepe blouses and dresses with black pleated ridges.
Shiny feather coats on panther tunics, fluorescent swan jackets with edge coasts on knitted dress, mesh silk fur, gold embroidered sweaters, colors burst, silhouettes and eras collide. A waltz of prints, gold and black, silver and gray or maxi pink. A Traviata making dolls dance in their princess, Tinkerbells or disco divas outfits.
Far from being a didactic performance, it is an entertainment, a game of dolls played on a chessboard of fashion ignored with the lightness, the spontaneity and the fantasy of a child who refuses to grow and continues to be amazed.
The collection is a large bouquet of wildflowers embracing all her favorite clothes. Freshly unpacked for this short stop at the Palais de Tokyo, the silhouettes are already on the move, direction New York or Brittany, who knows? But, hush, hush, it is Dinan festival.