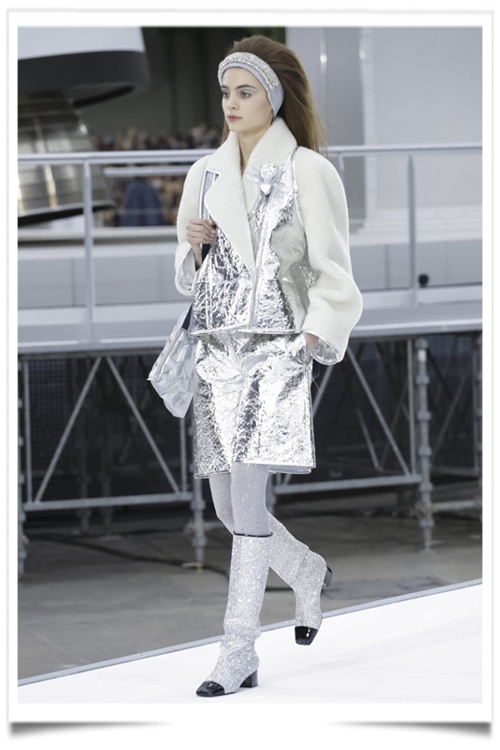 This season, Karl Lagerfeld chose to celebrate the French spationaut Thomas Pesquet and invited his guests to take board on the International Space Station. "Fly me to the moon in other Chanel World"
Staged in Grand Palais, the Chanel version of Apollo even appeared to take off at the finale – as booster rockets lifted the 30-meter high structure off the ground, as the rocket retracted into itself.
Karl Lagerfeld stated that "It's in the spirit of times. Chanel joining a Frenchman in outer space. Besides it's bound to be better than what we are experiencing down here,"
The runway was amazing as Lagerfeld injected a hipster technological edge into lots of the house's classics. From the legendary four-pocket suit reimagined in stars-at-night shiny anthracite wool to the sleek super-heroine cocktails finished with mini capes, or coal-black galactic warrior sheathes done with white ruffles – like the Catherine de Medici style much admired by Gabrielle.
"It's not old Futurism like at Courrèges, but Futurism for today from Chanel," said Lagerfeld, himself attired in a silver jacket, after taking his bow hand-in-hand with his "grandson" Hudson Kroenig.