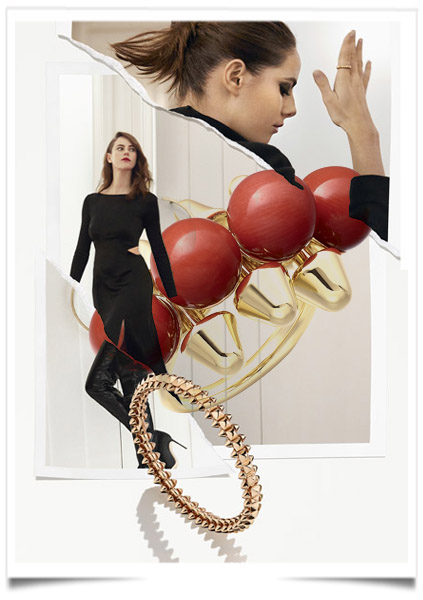 After the cloud, the house has designed in her studio a pimple for pimp. We already had the "Cruch" of Chanel, when will we have the "Fart" of Bulgaria?
Here are the sectarian, iconoclastic Visigoths and autistic barbarians who cross the blue line of the Swiss Alps to give us a course on High Jewelry. And from Switzerland, they come to visit the peasants of Paname to impose on us a diamond setting around looking like a mini "plug" shaped link that you ladies can use at your convenience.
We remember the Plug tree by Paul McCarty on Place Vendôme, here is for the Rue de la Paix the "banal Plug", reconverted into a bracelet ring and vérotis. We will end up thinking that the houses of the Place Vendôme are sexual obsessed. But, it is true that the house produces "bad taste" as the "Incroyable" French poête said "beauty" !
I look with curiosity this fake real jewelry, my lips tightened, my eyes are tensed, because my eyes can definitely not support this design to appreciate this fake of luxury from the " Suisse Landes ". There cannot be any impunity with some laws that you must follow the path of the Dior dealers.
After the cloud, here is the distressing and unsuccessful spectacle of a series for women "frigid to beauty". At least the Lord of LVMH has the merit of being brave when he uses rappers, he is frankly going for it. It's courage you miss the most, and it's too bad for us that you continue to hire designers who are more accountants than creatives. Men invented fire and you are not even able to invent the "fired" as Trump says.
Anonymode