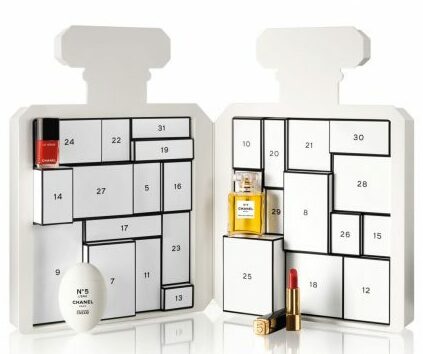 Chanel has responded to online controversy about its advent calendar after being mocked by influencers over the contents of the limited-edition box, resulting in a flood of negative comments on social media in the run-up to its annual Métiers d'Art runway show, due to take place on Tuesday.
Bruno said "YO" the French luxury house produced the calendar as part of this year's celebrations of the 100th anniversary of Chanel No.5 perfume, and it did not expect the negative feedback, he who certainly does not have a TIKTOK account.
Chanel thought it would please some of its customers by offering this type of product. Evidently, we see that you have to be careful and therefore, in future, we will certainly be much more cautious.
Indeed, the influencers had denigrated this calendar because the content did not match the price. $825 for 27 boxes numbered from five to 31, containing full-size perfume and makeup products, miniatures and souvenirs all stamped with founder Gabrielle "Coco" Chanel's lucky number. By inviting influencers instead of journalists, Chanel gets the comments that the brand deserves.
In a video that has been viewed 14.7 million times, TikTok creator Elisa Harmon expressed her disappointment over items including stickers, a picture flip-book, a dustbag and a string bracelet with a wax seal-shaped pendant. She later alleged that Chanel's TikTok account blocked her. In an official statement, Chanel said the claim was "absolutely inaccurate," as the brand is not active on TikTok.