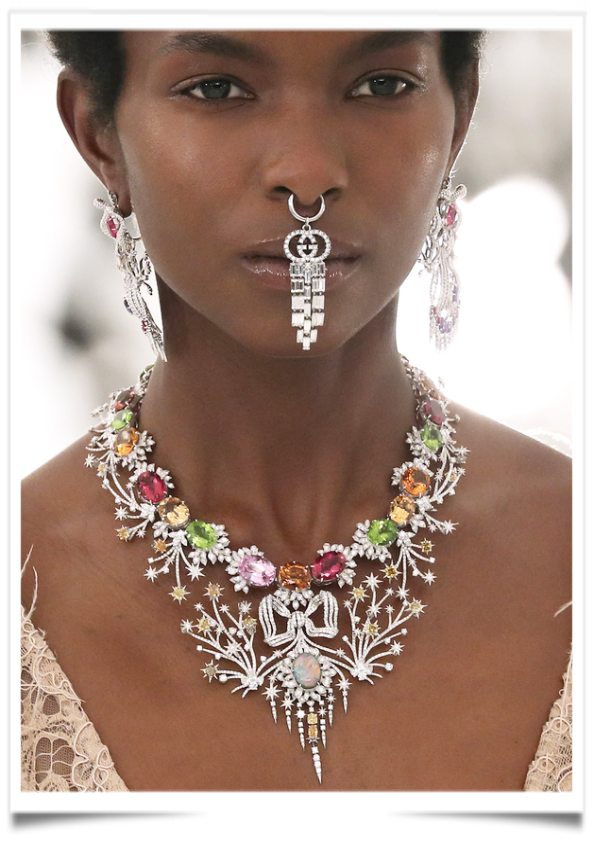 Gucci's creative director Alessandro Michele is still amazed by the trajectory of this particular brand segment in presenting the brand's third high jewelry collection.
Jewels are alive, I wanted them back to real life. They mark major milestones in our lives.  In addition to wearing them on the runway, I wear them everywhere I go, at work, for breakfast, on the street," he continued, pointing out Gucci's innovative step by presenting high jewelry designs alongside ready-to-wear.
According to Michele, the campaign art directed by Ezra Petronio and shot by Mert Marcus may seem counterintuitive, since the jewels are one-of-a-kind and may already be unavailable before the campaign is over.
He aims to create an imaginary world around the jewels by creating "unique and special pieces". To wit, this collection is divided according to five themes.
Pop culture and the psychedelic colors are elements of the theme, which includes necklaces of white gold chains, diamonds holding real talismans in hexagonal emerald, pear-shaped green tourmaline, and aquamarine set in a green enamel frame enclosing baguette-cut diamonds. A pendant with a yellow gold base recalls a scene in the savannah, engraved and enameled.
The savannah design comes from the 1969 "Savana" foulard Vittorio Accornero De Testa designed for Gucci and in 1981, this design was transferred to a pendant.