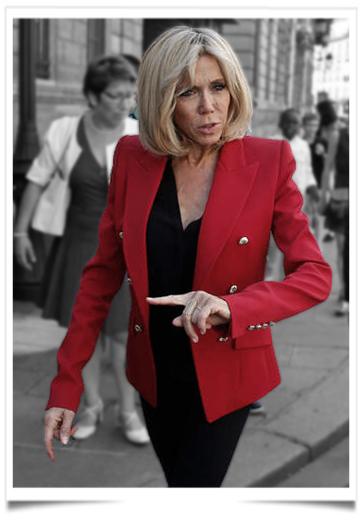 In Austria, Brigitte Macron showed once again that she is unafraid to experiment with fashion. Walking through Salzburg with Eveline Steinberger-Kern, wife of the Austrian president, Macron debuted a new red dress by Louis Vuitton, her go-to design house.
Emmanuel Macron was sworn in as France's youngest ever President at the age of 39 in May, and credits his wife- and former teacher- Brigitte Trogneux (who has taken on his surname since they became France's first couple) as one of his closest advisors.
Now the 64 year-old has become France's "First Lady" (although there will be no official title for her) since Nicolas Sarkozy's wife Carla left the Elysee Palace in 2012 – and she's showcasing a wardrobe which proves she's making the role her own.
Brigitte in magazine "Elle" wears Vaulthier, first cover for the first lady, we are very happy to see a lady at 64 year-old pretty, espacially without plastic surgery.