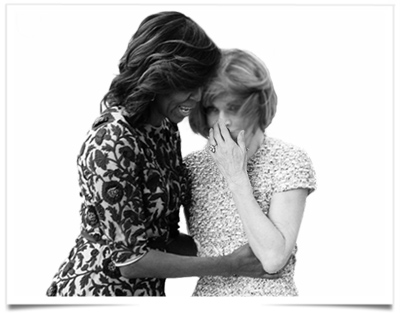 In a rare public display of emotion, Anna Wintour let her guard down this morning as Michelle Obama cut the ribbon for the new $40million Anna Wintour Costume Center at the Metropolitan Museum of Art. The First Lady, wearing a Naeem Khan dress, embraced the teary Vogue editor-in-chief in front of dozens of fashion luminaries that gathered for the event, including Marc Jacobs, Victoria Beckham, Zac Posen and Sarah Jessica Parker. The institute is being dedicated to Ms Wintour, 64, who has raised millions for the cause.
Designers Calvin Klein, Donatella Versace, Carolina Herrera, Reed Krakoff, Prabal Gurung, as well as Mary Kate and Ashley Olsen of The Row, were also among the famous faces at this morning's event, where a usually composed Ms Wintour broke down in what appeared to be tears of joy.
Her proud daughter, Bee Shaffer, posted an image of the museum's new wing, her mother's name written above, to Instagram. 'Now she's in a museum! This is a lot to live up to,' wrote the French ex-Ambassador.
The Anna Wintour Costume Center will be opened to the public on Thursday, featuring the work of Charles James. Although James' name is not well-known to the general public, he's revered by fashion industry insiders and designers. James was known as America's first and really only couturier until his death in 1978 (do not hesitate to visit canal-luxe.org blog and read the article published a few week ago).
The whole fashion industry attended the lauch of the new Anna Wintour Costume Center and Khan was a style savvy choice. Now Wintour may be considered like a museum! She is working for it anyway !!! Is it not fun?