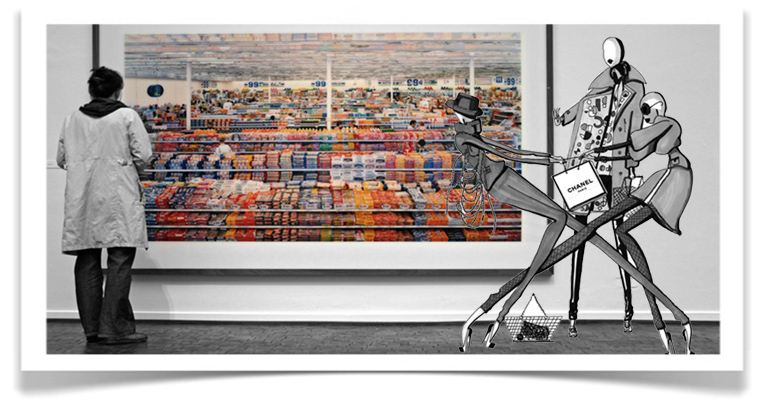 Sometimes the best way to get to the essence of a fashion show is to see it through the eyes of another artist. It is for that reason that Canal-luxe has asked one of its creative journalists to decrypt the Chanel Show. He then discovered that karl Lagerfeld found his inspiration from a German visual artist, Andreas Gursky.
At the last Chanel fashion show in Paris, Karl Lagerfeld built a Chanel supermarket concept store in which you could only buy products branded Chanel. The shelves of his extraordinarily detailed set were stacked with more than a hundred thousand items, brazenly advertised at 20 or 50 percent more. No bargains in these aisles.
There were also doormats printed with "Mademoiselle Privé." At show's end, as a locust horde descended on the shelves, those doormats were the day's key trophy—if you could get them past the security on the door of the Grand Palais. As Supermarket Sweep as the vibe was, the only goodies up for grabs were the fresh produce and the candies.
It was entrancing to see the fashion world's great and good transformed into kids in a candy store. An epic celebration of consumerism was also an epic satire of it. An instant analogy was Andreas Gursky's gigantic 99 Cent diptych. (Lagerfeld was kicking himself that he hadn't thought to invite Gursky to the show.) As a piece of conceptual art, as a critique of pop culture, as a fashion show, it offered the juicy meat of an academic thesis.