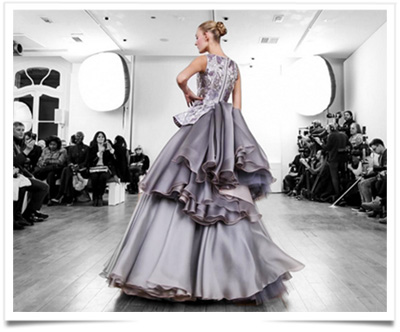 Next to me, there was a Japanese wearing a Fournié's dress of last year collection. Photographers, throughout the show and even after did not stop shooting her. What could be more flattering than to see a client dressed by her favorite designer! She was so glamour.
The show started with a slow and majestic long music. Lesage silks, chiffon and embroidery are legion. The dominant colors, silver and green water really contrast with the collection of the last year. The style Dior chiffon dresses embellished with large zippers in the back is the hallmark of the brand Fournié.
Julien is like a St-Laurent, shy and full of uncertainty. It is the prerogative of the greats who do not always give the best but give when he and only he has decided. For a long time we have seen Julien's Fournié's soul and today we can say "Good morning, Christian Dior". By the way, Suzy Menkes was facing me and she appreciated the show.