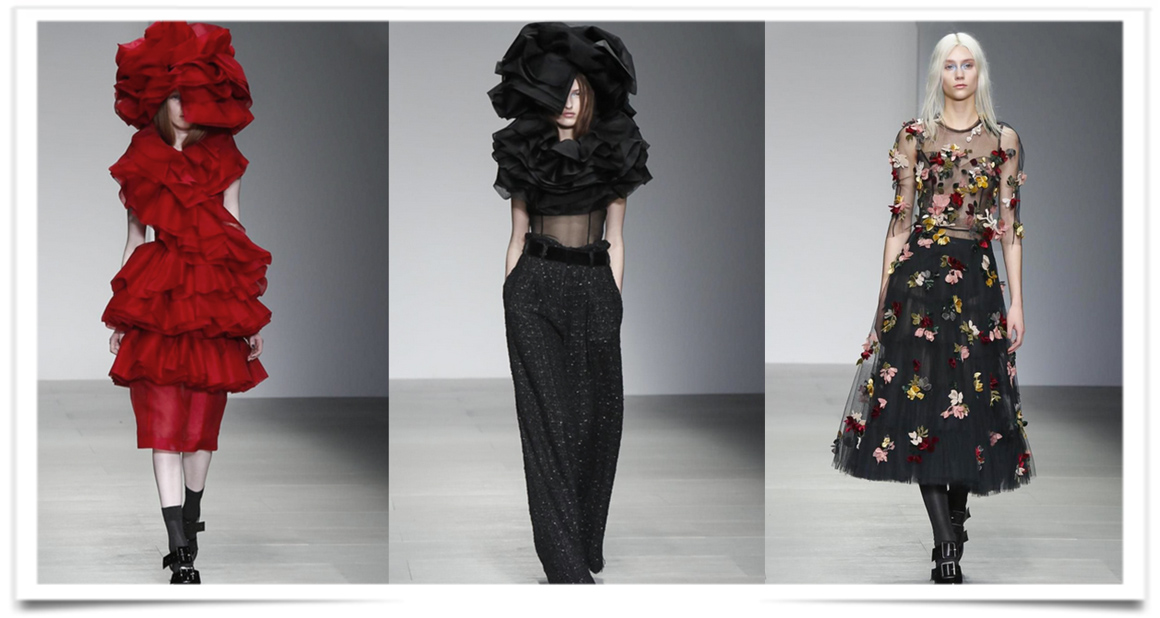 While not big on surprises, John Rocha continued his tactile exploration of romanticism, drawing inspiration from "dark Icelanding skies" and his beloved canvases of "the painter of black" Pierre Soulages. Rocha revisited his longstanding signatures in shape and texture: the glazed crochet and lace mid-calf dresses, the voluminous bell-skirts, the dramatic, towering headpieces, caught up in that out-of-time mood between youthful nonchalance and mournful surrender.
Yet where darkness and morbidity lurked (was that a coffin-shaped bag?), lightness instantly resurfaced in the airy swathes of chiffon and organza, some fluttering with scattered cutwork leaves. Rocha is master of his own realm, and even if his 'eternal return' to the brand's structural elements could be read as monotonous, there is substance in his technique that season after season beckons a closer look.
His Soulage study was interrupted by smoky greens, greys and burgundy shades, infusing the dark palette with an earthy, forest feel. Matching intricate cobweb lace and appliqued velvet winter florals with oversized corsages, the Rocha girls looked part nymph, part goth-y debutante; a dichotomy expressed most gracefully in the black dresses sprayed with red, yellow and pink blossoms, ensnared in the sheer tulle. The raw-edged tweed trapeze coats and buckled Mary Janes also tipped the collection more towards a youthful, gloomily juvenile vibe, though not without a touch grown-up sophistication, particularly in ruffled green organza ensemble. A fascinating show, indeed.