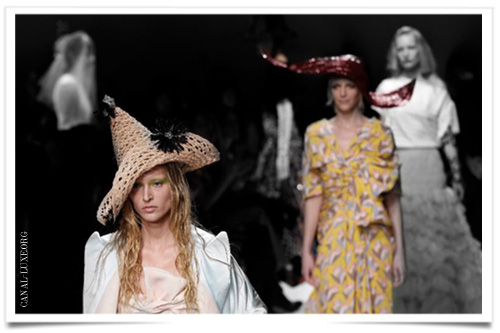 Zanini killed for the second time Schiaparelli 60 years later the last brand fashion show. Today, Schiaparelli, owned by Diego Della Valle is back in the fashion arena with a first Haute Couture collection. The pencil of Marco Zanini was not convincing and it would probably be his first and last fashion show.
In the front row, Jean-Paul  Gaultier, Bruno Frisoni, Elle MacPherson, Ines de la Fressange and former first Lady of France, Carla Bruni-Sarkozy… – not really a fashion show, more a red carpet show – where were the real fashion people:  Wintour, Menkes, Canal-luxe, etc.
In fact, no matter, Schiaparelli is dead again. Thanks to Mr Della Valle to have made us dream 6 months before the collection. The dream became a nightmare.