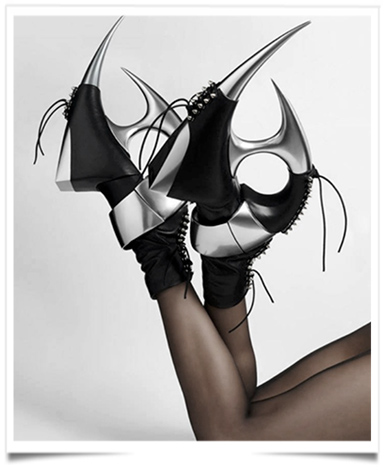 After working as a shoe designer for a number of large brands and opening dozens of stores, Peter Popps decided to continue under his own label, in 2003. Popps no longer designs everyday shoes, his current creations are not even made for walking. Thanks to these outstanding designs, named Bow, Cube, Circle and Oval, and Lace-Up and Circle, Peter Popps can even include fashion icons such as Lady Gaga and Janet Jackson to his regular fan base.
Peter Popps has never been an easy student. "I honestly spent most of my schooldays sitting backwards in my chair," says Popps in an interview with NowFashion. "I didn't exactly know what I wanted to become, had zero concentration and therefore decided to start working at a shoe store, Cinderella, at the age of fifteen," Popps added. A well made decision.
At twenty-two Peter Popps started working at the Dutch shoe brand Sacha.  "Sacha offered me a lot of freedom which made it possible for me to create unusual stores for that era, the 80s and 90s. I shocked and attracted our clients with bright red walls, packed shopping windows, and loud music. Teenagers were standing in front of our doors, to show they were part of our brand, our lifestyle.
A few stores later, Popps started to design shoes for Sacha. Popps' designs instantly became a huge success. He initiated collaborations with a variety of brands, including Dr. Martens, and literally designed hundreds of shoes for Sacha. Popps left the brand in 1999 and started working as a permanent designer at Bronx for a few years.
Nevertheless, Popps concludes he no longer wants to work in the name of commerce. "The freedom I had when I just started was decreasing more and more. Nowadays buyers aren't looking for something new, everything is repeated. It drives me crazy to see copies after copies. I wanted to rebel against that development and challenge myself somehow as well," he continued.
This challenge became a mini collection of shoes or, rather, creations. "My current collection consists of five designs. The shoes are the outcome of a long process of sketching, moulding and 3D printing. The inspiration for This collection comes from contrasting subjects, from technology and science fiction to bondage.