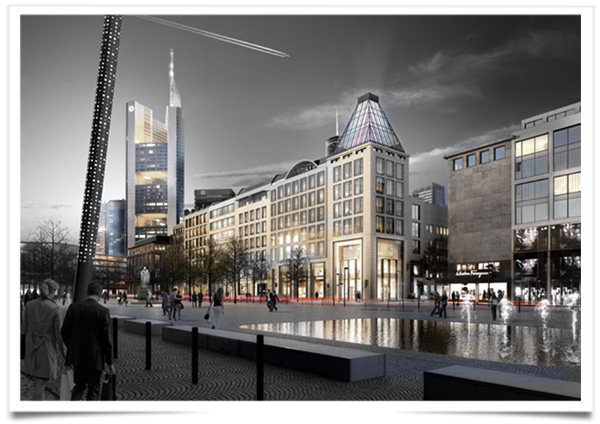 ONE Goethe Plaza is truly the Number One address and the place to be in Frankfurt today – A new success story for Vuitton!
When it was last year announced that anchor tenant Louis Vuitton had signed a contract for 1500 luxurious square meters of space. Immediately, Nespresso expressed its intention to open a 1200‐square meter flagship store. Other new tenants include the luxury fashion label Escada with 300 square meters, the well known watch and jewelry brand OMEGA will occupy 100 square meters. And with the renowned law firm Heuking Kühn Luer Wojtek, a key tenant has been signed for 3000 square meters on the upper floors of the imposing building.
Peter Feldmann said, "This project has a special flair. On the one hand, it is a successful example of urban renewal, and at the same time it will exert a positive influence on the retail industry, at a premium location in Frankfurt."
Unique location in the heart of the banking center "We're not surprised at this success in letting property. We have been convinced of this project's potential from the very outset. It's an attractive structure in an excellent location," said Ralph Wagner, managing director of FREO. "Of course we are very pleased that we are already well ahead of the milestones we set for ourselves." Christoph Scharf of BNP Paribas, the exclusive agent for retail real estate, shares this optimism. "There are only a few outlets available, and they are very select.
Goethe used to say "German people hates the French but they love drinking their wine". It is still true for luxury. So Welcome to Frankfurt.