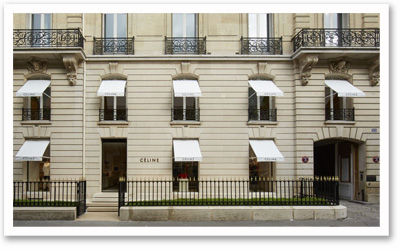 Breaking Paris News – Céline has opened its new Paris flagship at 53 Avenue Montaigne. The event was announced by a large advertising campaign in Paris, and the new neighbor, the last flagship Saint-Laurent, replaces the previous Céline's address rue Francois 1er.
Danish artist FOS has made bespoke furniture, lamps, benches and chandeliers including all the lines of the brand. "Sofas, sleek furniture and tropical plants are arranged to create an intimate and cozy spaces " described the house which owes its success to the British designer, Phoebe Philo.
Phoebe Philo is British. She was born in Paris and educated in London. She studied at Central Saint Martins College of Art and Design in London from whom she was graduated in 1996. Phoebe works in London where she lives with her husband and their three children.
Céline forecasts to open 15 new addresses by the end of the year, including flagships in Tokyo, Chengdou, Las Vegas and New York. The previous address remains the property of LVMH, which had dreamed to install the first flagship of Dior "Homme" in Europe. But the group's projects have since evolved.