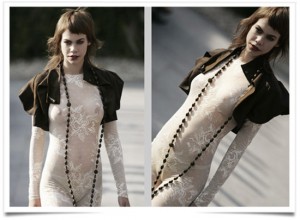 Mada Van Gaans creates highly feminine, though slightly futuristic edgy women's wear collections. Her designs are a divine mix between fantasy, luxury and comfort. "Wearable, highly imaginative in its own, particular, yet in a classy way"
Her work is refined and detailed, has a whimsical and 'art nouveau' touch. Strong formations, softened by flowing materials and elusive prints, are brought together within a dreamy, yet wearable range of refined outfits suited for modern women who embrace their existence.
Natural elements and traditional craftsmanship from other cultures are placed in a new concept and show a harmonious mixture between multicultural craftsmanship and modern cloth. "To me, it is a challenge to be able to translate the rich images and silhouettes from those magnificent artworks into my creations"
Van Gaans' fascination with nature began as a child in Wapserveen, a village in Drenthe. Her childhood thrived in the rich countryside near the forest and fields of heather.
Van Gaans' creativity took flight at the Vrije School (Rudolf Steiner college) in Meppel and Groningen, Intermediate Technical School for Fashion and Clothing MTS in Utrecht, and the Amsterdam Fashion Institute. She received her final Masters from the Fashion Institute Arnhem where she presented her graduation collection at Musee Galiera for the Haute Couture Week in Paris.