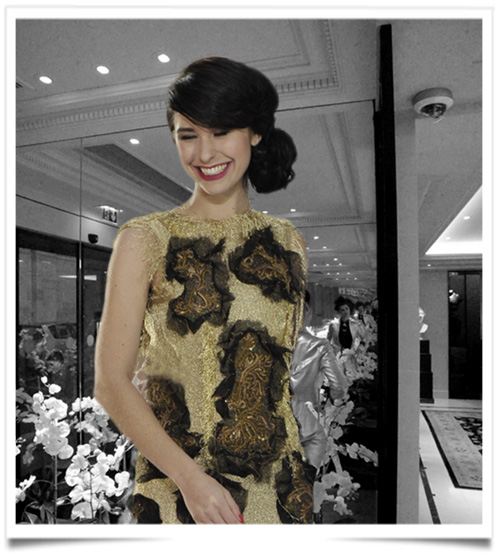 Exclusive Kimbra interview after the Franck Sorbier Show. She arrives on time with Franck Sorbier in Paris downtown closed to the Palais Royal. Very pretty and very fresh, she looks like my daugther, Dgena the bloggeuse, and of whom she is a fan (Gotye – Somebody That I Used To Know ).  She met Franck Sorbier on Internet, and she appreciates his work. The Master Class Franck is probably the best creative fashion designer in the world.
The 24-year-old New Zealander is in Paris, and she is the new egeria of the Sorbier fashion house. Kimbra Johnson has been playing music since her early teens, but she really started when she had the chance to move to Australia, where she continued her musical pursuits and was able to produce music that is funky, soulful, and full of fun.
Prince and Michael Jackson to Minnie Riperton are her model. I listen Stevie Wonder and Rufus Wainwright. I've been influenced by the Dirty Projectors and tUnE-yArDs for their uses of amazing vocal work and layering. I also love the Japanese producer Cornelius.
Have you always wanted to be a musician?
Since my early age I have been playing music and I started writing songs and picked up a guitar at 13 or 14. It is at that time that I realized that "Wow, I might actually make this a career." It sounded very cool to pursue it; to do something really good with something I love to do most.
Marcel Proust Questionary :
What's your favorite female word? Butterfly
What are you singing in the shower? Billie Holiday
What's your favorite ice cream flavor? Lemon
What does kill love in a couple? Bor
What's your favorite insult? Chut Hush Hush
Which is the movie you will never forget? Singing in the rain
If we tell you that the end of the world is today, what would you do? I will call my familly, my friends to say "I love you"
Imagine you have the Pope 'Francois' phone number what will you tell him? Come for lunch and drink
Who is the person you admire the most? My father
In your opinion, what are the essential accessories? Rings
Which accessories you will never have in your wardrobe? Percing and earing
What kind of personality, living or dead, or any fictional character you secretly dream to sing? Prince
What job would you have practiced, if you had not become a singer?  Create flowers,or take care of animals.
Do you remember … What are the first emotions you felt when you came to Paris? Walk in Paris
Can you give me a fashion blog? Canal-luxe.org
Are you a real French girl? She reconizes on photos, Croissant, Baguette, Camenbert, Ana Wintour and Charle Aznavour. She is a real French girl.
Thanks for this so kind and fresh interview. Welcome in France, Kimbra, I am sure you will love French people, and French Fashion designers.