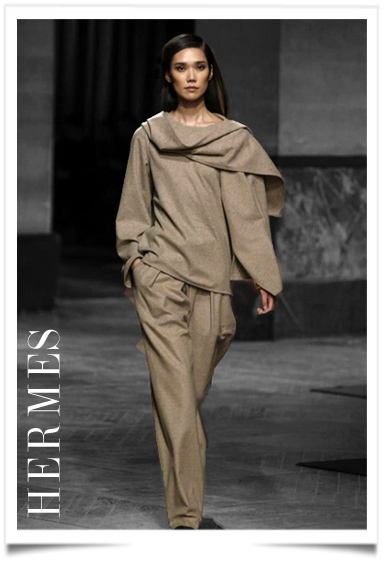 Mini and maxi
 lengths at the Hermès' catwalk in Paris, with full, straight and tapered shapes, the protagonist of the Hitchcock film, Rebecca, with her duality, her mystery, and her past-era elegance, inspires a feminine and an extremely French women. Christophe Lemaire wants Fall to be a cozy and a luxurious xxx.
The Hermès collection offers rich and warm coats wrapping the body. Beautifully draped and cut coats were key here—done in variations of robe-like silhouettes, collar-less throw-ons, relaxed military jackets and tons of belted fur vests.
His color palette was restrained, almost to the point of austerity. Which made moments like a printed dress and shearling vest especially welcome. There was a lot to like
(and importantly, wear) in this line-up, but as a whole, it was very subdued. It was luxe, luxe, luxe. Think: an entire suit made from sheered fur. The wonder was in how these tricky materials were used and crafted with the confidence of someone working with traditional suit fabrics.