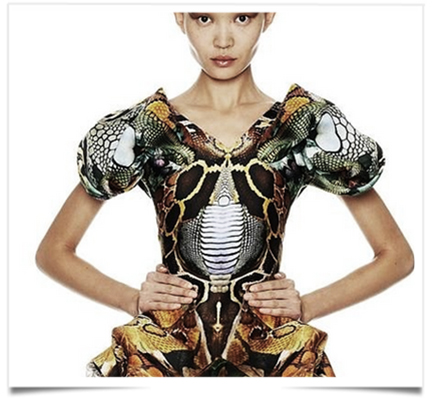 When Alexander McQueen was alived, he would have been 45 years old yesterday. We gave tribute when he passed, now it's time to celebrate the Brit designer's life and work through the genius creations he left behind. Did you get a chance to see his pre-Fall and Fall collections?
Lee Alexander McQueen, CBE (17 March 1969 – 11 February 2010) was a British fashion designer and couturier. He is known for having worked as chief designer at Givenchy from 1996 to 2001 and for founding his own Alexander McQueen label. His achievements in fashion earned him four British Designer of the Year awards (1996, 1997, 2001 and 2003), as well as the CFDA's International Designer of the Year award in 2003.
McQueen has been credited with bringing drama and extravagance to the catwalk. He used new technology and innovation to add a different twist to his shows and often shocked and surprised audiences. The silhouettes that he created have been credited for adding a sense of fantasy and rebellion to fashion. McQueen became one of the first designers to use Indian models in London.
McQueen's funeral took place on 25 February 2010 at St. Paul's Church, Knightsbridge, West London. His ashes were later scattered on the Isle of Skye.
A memorial was held for McQueen at St. Paul's Cathedral on 20 September 2010. It was attended by Björk, Kate Moss, Sarah Jessica Parker, Naomi Campbell, Stella McCartney and Anna Wintour amongst 2,500 other invited guests.On 18 February 2010, Robert Polet, the president and chief executive of the Gucci Group, announced that the Alexander McQueen business would carry on without his founder and creative director.