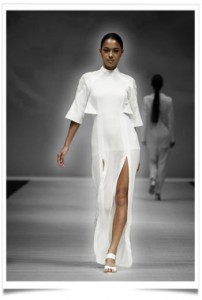 These events are part of the Asia Fashion Exchange, which aims to position Singapore as Asia's leading fashion hub. This year's speakers included Steven Kolb from the CFDA; accomplished writer and Audi's Fashion Festival Creative Director Colin McDowell, and designer Thomas Tait, who is one of the finalist for the prestigious LVMH Young Designer Prize being awarded this month.
Then there was BLUEPRINT, a trade show that positions itself as the fashion trade gateway to Asia, which creates business opportunities between international buyers and promising design players.
There was also the Audi Fashion Festival. A showcase of world-class collections by both top designers- this season, Prabal Gurung opened the event and Oscar de la Renta supplied
the closing show- and emerging global designers.
An important role in the realization of the initiative goes to the Textile and Fashion Federation of Singapore (TaFf), which is actively developing local fashion industry. During the whole event, and especially at its trade-show BLUEPRINT, I spotted a number of interesting labels and designers? I give you some photos.