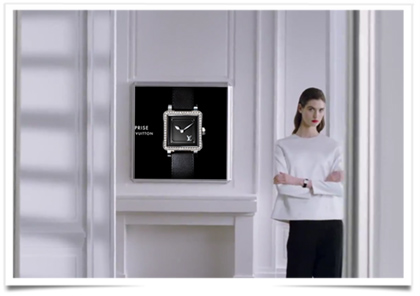 The Iconic fashion house, Louis Vuitton, introduces its new Emprise jewelry and watch collection with this trippy short named after the line, which explores Parisian origins of the range by taking the viewer through a seemingly never-ending labyrinth of rooms.
You got to wonder how they did it. Louis Vuitton showed its new Emprise collection in an "infinite mirror" installation by contemporary artist Mathias Kiss. The brand unveiled its new video celebrating the collection, an homage to Kiss' work courtesy of director Raphaël Gianelli-Meriano and the Surface to Air studio. It's a fast-paced mise en abyme—a telescoped sequence that surges from the columned arcades of the Palais Royal, through the aristocratic salons of an Haussmannian apartment, to the lid of a trunk, the prism of a golden beryl pendant, and finally the beveled frame of the new Emprise wristwatch.
Twitter was immediately a buzz about the music by Gesaffelstein, the rising star of the French electro scene. And what looks like a lineup of models is in fact only one: Manon Leloup, who in the final shot wears the white Perfecto now appearing in the current Spirit of Travel campaign. Watch the film hereafter on Fashionoutsider.net.