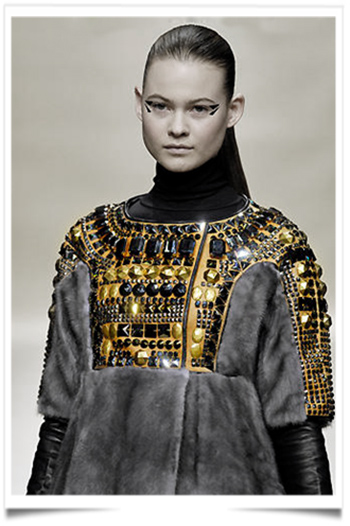 For Dice Kayek the idea behind the omnipresence of this intense blue color and the construction of the designs stems essentially comes from my fascination with the Cosmos, the infinite space. Eternally mysterious, it never stops to amaze me, to intrigue me. I am asking myself a myriad of questions on the dark depths of its immensity as well as on the powerful and vibrant radiance of its stellar gems.
The sparkles of the embroidered crystals represent the strange tickling of cosmic nebulas. Regarding the architectural forms and hi-tech materials, they are inspired by the space suits of astronauts. In the end, I like the idea of conceiving a design that has a place in our contemporary universe as well as in a space odyssey.
I have entrusted the movie of the collection to Marie Schuller who had the carte blanche to interpret and visualize my approach for the second season in a row. Incarnated by the singular beauty of Elena Sudakova, the result delights me endlessly: "Disturbingly strange, swinging between reality and fantasy, beyond time and space".
The board of the Chambre Syndicale de la Haute Couture met on May 6, 2014 and elected Dice Kayek as a new guest member to the Haute Couture calendar of July 2014 in Paris.
 Jay-Z au Met Ball 2014