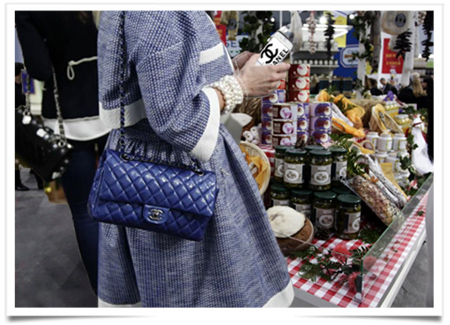 Yesterday Karl Lagerfeld took VIPs shopping at the "Chanel Supermarket show" complete with fully-stocked aisles, check-outs, trolleys, special offers and discount posters. Every product packaging  were branded Gabrielle Chanel.
Karl transformed in supermarket the Grand Palais, the temple of arts, after the FIAC (Art supermarket for rich people). Chanel has recreated a supermarket for rich people in Paris downtown. He just forgot that he has never been in a supermarket and does not know what is happenning in supermarkets. He surely took someone outside the Chanel group to explain them the concept of supermarket. Personally, I have never met a woman dressed in Chanel in a supermarket, and you?
Melanie Griffith, Vanessa Paradis and Mario Testino bolstered the front row while star models Cara Delevingne and Kendall Jenner, sister of Kim Kardashian, were on the catwalk. "Who's here?" "Everyone, of course!" gushed a couple of breathless fashionistas.
Supermarketing indeed.