Category Archives:
FASHION WEEK NY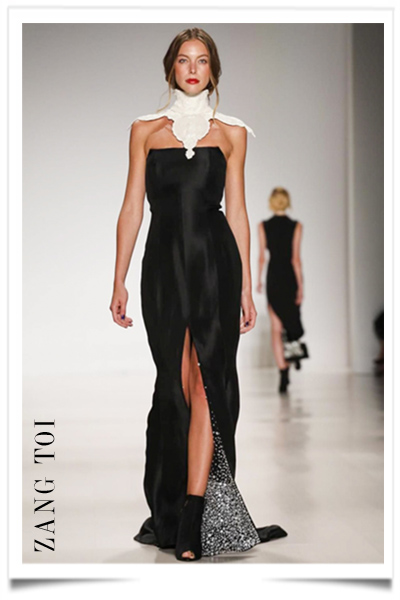 Zang Toi established the, "House of Toi" collection in New York in 1989. Malaysian-born Zang Toi is a graduate of the famed Parsons School of Design. Toi burst onto the scene with vibrant hues and bold designs. Over the years, Toi's designs have evolved from the bright and decadent of the 1990s to the timeless yet modern lines of the turn of the century. No matter what the trend, Zang Toi creations are chic and glamorous, always highlighting the beauty of the female form. All hand made in New York with the most luxurious materials, all unique, all Zang Toi.
Zang landed in New York City at the age of 20 where he studied at the distinguished Parsons School of Design. In 1990, Zang was awarded the Mouton Cadet Young Designer of the Year which recognizes the top, young, U.S. designer of the year.
Since that time, Zang's work has been featured in major publications such as Canal-luxe, Vanity Fair, Time, Newsweek, The New York Times, Financial Times, etc. Not only has he dressed Hollywood celebrities such as Sharon Stone, Elizabeth Taylor, Farrah Fawcett, Kristie Alley, Patti LaBelle, Gong Li, Eva Longoria, Fergie (Black Eyed Peas) Continue reading →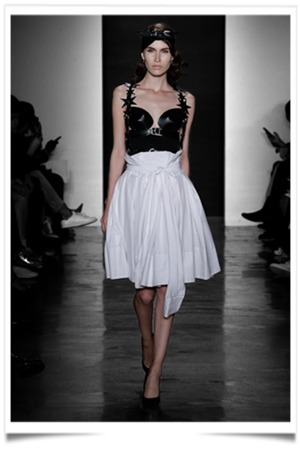 Zana Bayne launched her first hand-crafted leather harness collection in 2010. After graduating with a BFA in Conceptual Art from the San Francisco Art Institute she moved to Berlin before relocating to New York City in 2009 where she began developing her harness accessory business.
The namesake brand of the New York-based designer presents meticulously handcrafted leather accessories that play on the lines of the body. Subtle bondage undertones and defined silhouettes evoke a sense of refinement, accentuating the style of the individual wearer. This season it was a great opportunity for me to take people who I love and respect and wear, and have them integrate what they do into my vision."
And that vision was one of "Moonbathers." Looking to night imagery having to do with moonlight glimmering across a body of water — a darkness befitting a brand rooted in leather harnesses — the designer sent out looks focused on using her leather accessories as apparel. "It's an accessories-based collection," Bayne clarified. "Our goal is to blur the lines between accessories and clothing, so we're always going to push the leather a little bit further."